It's important in the New Year to re-evaluate our sense of style and to learn from mistakes of yesteryear.  And some "fashion statements" really must go.   Pretty and Poor listed on her blog many of the pet peeves I have when it comes to fashion flops (hate drawn-on eyebrows).  For a rundown of what other fashion bloggers are saying about the trends of last year, visit Bailey, Meister, & Co.
Here I've outlined what I believe to be the unforgivable footwear flops of 2009.  What are the worst looks you've observed (footwear or otherwise) in the past year?  Do I hear harem pants, anyone??
Footwear Flops Countdown
5. Ankle Cuff Sandals – I bought a pair of these trendy sandals from Steve Madden last spring hoping to love them.  Fail.  They are unflattering unless you have mile-long legs, and the cuff is uncomfortable and cuts into the leg.  I especially detest the thong sandal style shown below:
Picture from The Little Things
4.Impractical Heel Shapes -In 2009, technology allowed shoe designers to create light weight shoes and play with unusual heel shapes and extreme platforms.  Some of these creations, I loved.  They are fun to look at…but can you imagine trying to wear them?  The following would fall under "cruel and unusual punishment":
Lagerfield designed this heel…I'd be afraid it would snap in two!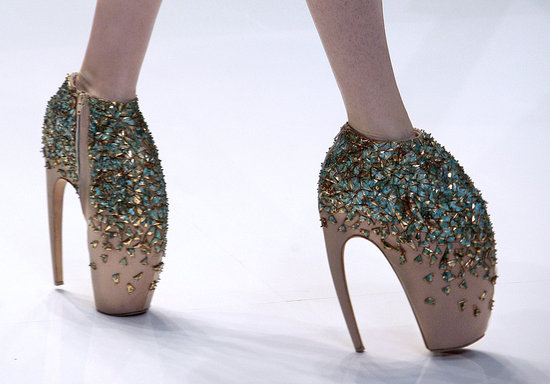 Alexander McQueen alien shoes (1st photo), worn by Lady GaGa in her music video "Bad Romance".  All of these Alexander McQueen shoes are out-of-this-world ugly and ankle-breaking scary.
3. Open Toe Boots -Not only do they undermine the purpose of a boot, but they aren't flattering at all!  They chop the legs and make you look frumpy.  I do own a pair of peep-toe booties, but they have very small openings, so my toes don't dangle out of them.  And I like to wear mine with colored tights.  Certainly don't pair ankle boots of any kind with dresses!  Doing this shortens women's legs.
Photo from The Trendsetter
Photo from Buzz Feed

Velvet Angels Women's Impavida Peep Toe Platform Boot
, $324.95
2. Baggy Boots – Don't get me wrong – suede boots with a bit of a slouchy look are a nice cold-weather staple.  But boots that look like they could have been fashioned from a trash bag belong in the dumpster!  These saggy, unflattering boots were popular on the 2009 runways and with some celebs, but I find them absolutely loathsome.
Fergie, wearing Rick Owens thigh high flap wedge boots
1. Crocs – No news here, but I still feel as strongly as I did last year about Crocs.  Yes, I hate every single pair.  And no, I don't care that they're comfy.  I have comfy shoes that are cute, too. I have to agree with The Lipstick Diaries that 'Crocs are basically the worst fashion trend of the century'.
Crocs heels??