The Original Spectator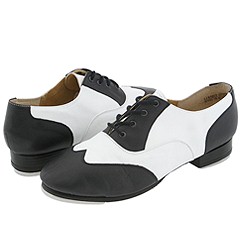 Leo's – Giordano Spectator Tap, $79.00
A spectator is a shoe design characterized by two materials, often of different colors or materials, with an edge of the dominant color having a pinking edge exposed, and a perforated design on the toe.  The most common color combination for traditional spectator shoes was black and white.
Women's Spectator

Two Lips Women's Martini Mary Jane Spectator, $78.95
The women's spectator pump is a style fashioned after menswear.  They lost popularity in the early 1950s, when slingbacks and strappy pumps became stylish, but they returned to fashion in the early 1980s.  Women's spectators are best when paired with high fashion or British-inspired clothing, and with their white color, they are best in the spring and summer wear.  However, spectator pumps in unexpected colors and fabrics will make a bold appearance this Fall.  Check out these animal print spectator pumps on The Shoe Dish!